Credit Suisse sees S&P 500 correction coming in 2015, but sticks to stocks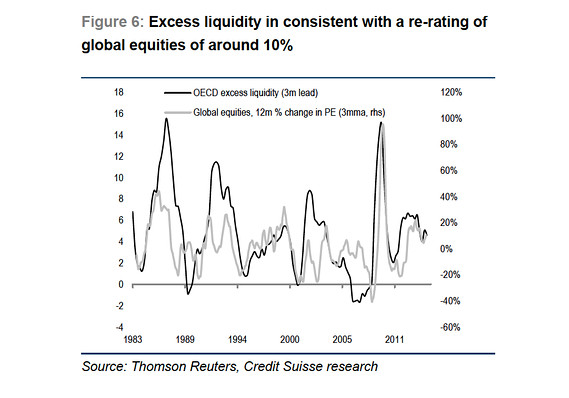 Credit Suisse has just become the latest Wall Street bank to tweak its S&P 500forecasts. But in a bit of fence-riding action, and perhaps giving further evidence to just how much Wall Street is sweating out this bull market, the bank paired a laundry list of reasons to stick to stocks with a warning for a correction mid-2015.
Andrew Garthwaite and his team nudged their year-end S&P 500 target to 2,050 from 2,020, among the mildest move seen by banks so far. In the very near term, the next month or so, he says a modest consolidation is likely.
By mid-2015 that call is up to 2,200, before pulling back to 2,100 by the end of the year. That latter step back is due to the fact Credit Suisse sees a second-half correction as Fed rates rise and "U.S. profit margins peak against a backdrop of full employment." Hence, a much tougher environment for equities.
The risks Garthwaite sees for this market are plenty: An elevated bull/bear ratio pointing to a flat market (over 2 to 4 weeks); Fed hike seen in Q2 2015, but any change of language potentially triggering 2% to 4% sell-off; China; European politics. His overall advice is stay underweight the U.S.
But in short, he sees few other places right now for investors to stash their cash. Here's his laundry list of why to stick with stocks:
Relative valuation is supportive. Equities are still "abnormally cheap" against other major asset classes and a U.S. price/earnings forecast of 17 to 18 times versus current multiples of 15.7 times. (Deutsche Bank's David Bianco last week also said 17 times was reasonable providing long-term interest rates stay below normal). On a global basis, earnings look even below trend.
Excess liquidity:. Consistent with a 10% re-rating of global equities and G4 central bank balance sheets are set to expand around 12% in 2015.
Earnings revisions near 3-year highs. Revenue estimates may be around 1.5% too low in 2015.
Fund flows. Buybacks have slowed, but corporate net buying is set to remain above average levels.
Tactical indicators. Credit, price momentum and market breadth remain supportive for stocks; only the bull/bear ratio for financial advisers is looking stretched
The Fed. Last but not least, markets correct after, but not before the first Fed rate hike. As well, "while rate rises have historically led to greater volatility in equity markets, they have not marked the end of equity bull markets," noted Garthwaite and his team.
On average, the 15 top strategists tracked by research firm Birinyi Associates see an average year-end forecast of 2,010, with Stifel Nicolaus at the top with 2,300 and Bank of Montreal at the bottom with 1,900.